Welcome to Jämtkrogen Hotel Restaurant & Conference
Jämtkrogen is a restaurant and hotel with 36 rooms along road E14 located in the heart of Bräcke, Jämtland.

It's original decor is seen in all guest rooms as well as the bar, restaurant and conference facility.
Jämtkrogen's guests can also enjoy 4 bright conference rooms, lunch & a'la carte at the Taverna, evening entertainment at the bar and a separate restaurant space for occasions up to 160 guests.
Large parking lot for cars and buses. Easy helicopter landing. Easy access from road 323 and road E14.
Camper parking with electricity & garden view.
Welcome to Jämtkrogen Hotel & Restaurant in Bräcke.
Have a great stay!
Ride & Sleep Deal
Hotel Room up to 25% OFF when riding a Motorcycle
FISHING DEAL
Hotel Room up to 25% OFF with fishing card!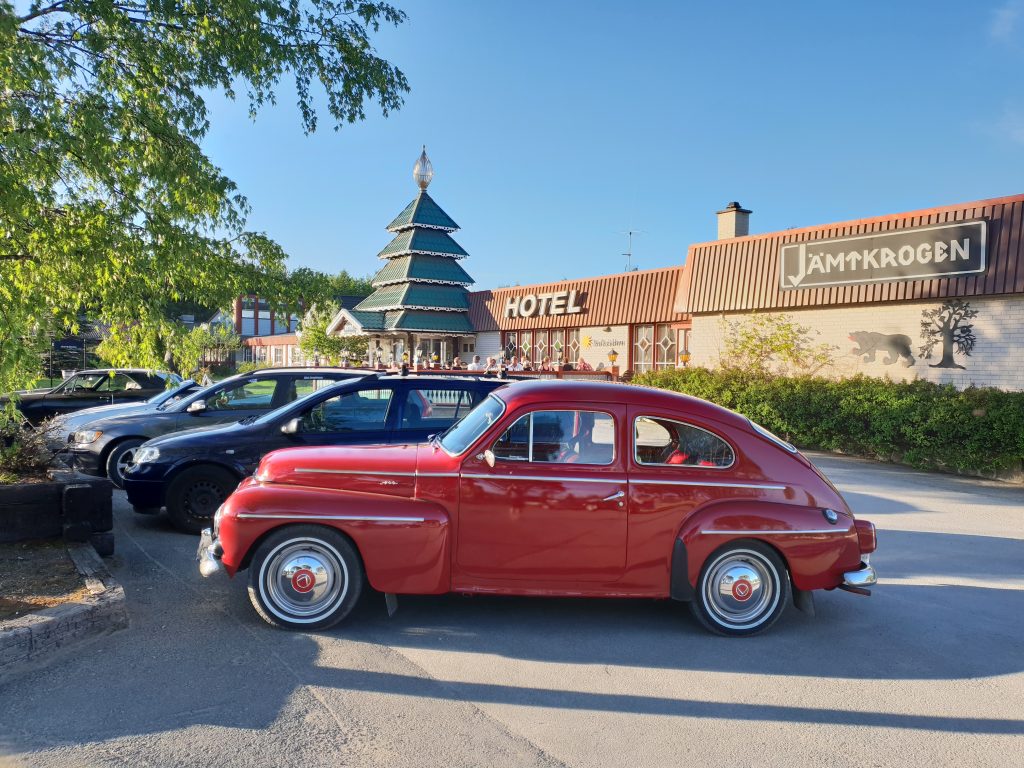 Jämtkrogen's original décor is seen in all guest rooms as well as the restaurant. Wooden detailing above the doors and the hotel bar were made by a local artist and entrepreneur. Paintings on the walls and animal themed corridors confirm that hunting in Jämtland is common and seen as a big part of the local tradition.
        The hotel offers accommodation in 36 comfortable hotel rooms.
Suitable for business travelers and tourists, with a casual feeling. Great mid way stop for St. Olov's Way pilgrims.
        Within our hotel in Bräcke you will find a 24h lobby with self service tea, coffee and all access microwave; relax area with sauna, tanning bed and a massage bed. Board games, books and brochures about activities in Jämtland can be found near the reception. The golf course simulator is in a separate building. 
During day time our guests can also enjoy 4 bright conference rooms, cozy restaurant and evening entertainment at the bar.
Large parking lot is suitable for multiple cars, campers, buses. 
Due to COVID19 safety related reasons, all restaurant services have been postponed until further notice.
Breakfast is served to hotel guests only
.
We apologize for any inconvenience.
Jämtkrogen's restaurant has been established by a local chef who focused on classic Swedish dishes.
This tradition is carried on for over 40 years now.
        Jämtkrogen Hotel and Restaurant has hosted events such as Gulden Hits, Guldtjärnan galas, concerts by local and international bands among which were also The Animals. 
Seating for 60 to 120 guests | Standing events up to 320 guests
      Alongside traditional dishes our chefs also serve modern classics such as freshly made burgers, healthy lunches, locally produced ice cream and daily baked cakes. For dinner we can recommend guest's favorite steaks served on a hot wooden board, reindeer and seasonal specials. Vegetarian, vegan, gluten free and lactose free alternatives available. Booking is preferred for bigger groups.
Jämtkrogen's chefs can prepare a tailor made menu for your special event or catering. Contact us for more details!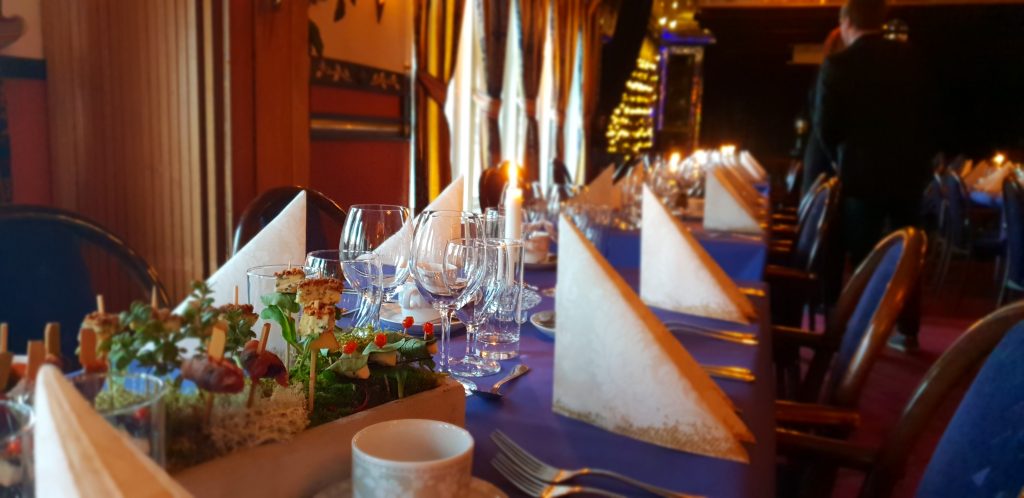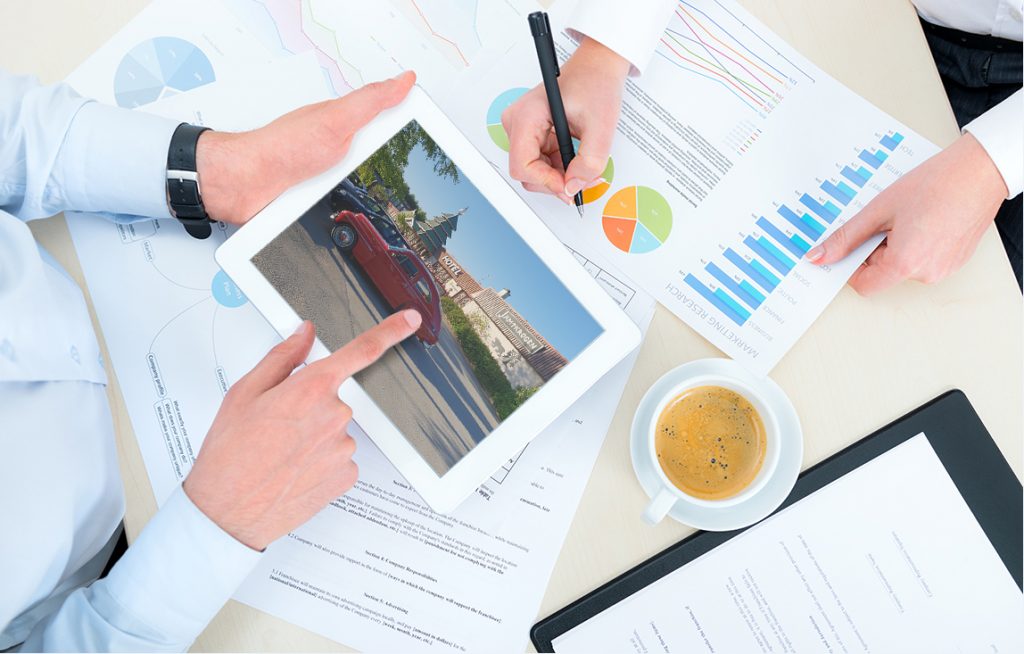 Conference close to nature
        Jämtkrogen Hotel and Restaurant offers 4 airy and bright conference rooms suitable for small to mid size groups.
Great for meetings of 4 to 70 people.
        Guest's favorite conference room Polar Bear is located in a log house adjacent to the main building. It's unique style and hunter's cabin feeling makes the conference guests feel cozy yet focused and sharp. 
        Grizzly is our biggest conference room. Equipped in special hearing aid, over 5 meters in height, with a fantastic big scale painting of nature on the wall. Surely something memorable that distinguishes the conference room from all others. The smallest conference room Little Bear, is often used as a group room or for small business meetings and interviews.
All 4 conference rooms are equipped with:
TV, projector, overhead, white board and speakers
Larger events and meetings can be held in the restaurant area which has a separate entrance, foyer with coat check, good size stage and seating with dance floor for over 120 guests.
Great rates for early bookers and regular customers!
Top activities in Jämtland
Jämtland – homeland of Sweden't top summer and winter activities.
        Within the hotel property you have access to: sauna, golf simulator, bonfire spot and a large garden for games as cub or boule. Fun in the area includes:
      Right next to the hotel: a large kid's playground, football field, an ice skating ring, running trails. Within a 10 minute walk: fishing in lake Revsunssjön, boat rental, the famous Glassbaren with award winning ice cream produced in Bräcke, outdoor work out park, tennis courts and lit outdoor cross country tracks.
      Top activities in Bräcke, Jämtland are cross country skiing, downhill skiing, dog sledge, snowmobiles, ice fishing in the winter through fishing, fly fishing, swimming, kayaking, boat trips, hiking and bike rides in the summer. For those with a hunting license Bräcke kommun is also a very attractive area for hunting wild birds, moose and even bear.